How We Review
Our Goal: To become the most reliable, transparent, and player-centric live casino review site in the history of the internet.
How We Achieve That: We utilize 3 distinct scoring systems, each with its own unique objective, providing you with 3 criteria to consider when selecting your live casino. All of these criteria serve one primary purpose: to cater to our users.
Why It's So Cool: While many other review sites base their evaluations on personal opinions, we prioritize data-driven techniques to provide honest and transparent assessments. Our mission is to transform the affiliate industry into one that guides players to the best deals at the finest live casinos, benefitting players and raising the bar for live casinos.
Why It's So Cool: This system empowers our users and encourages community engagement. It ensures that we provide a platform for players to share their insights and experiences, promoting transparency and keeping live casinos accountable.
Why It's So Cool: With our Value Rating system, players can easily identify the live casinos that offer the best deals and promotions. This encourages live casinos to constantly improve their offerings, fostering a competitive and player-friendly environment.
At LiveCasinoMate, we strive to create a transparent, data-driven, and player-focused review platform. By combining Expert Ratings, User Ratings, and Value Ratings, we provide a comprehensive evaluation of live casinos that helps you make informed decisions and have the best possible gaming experience.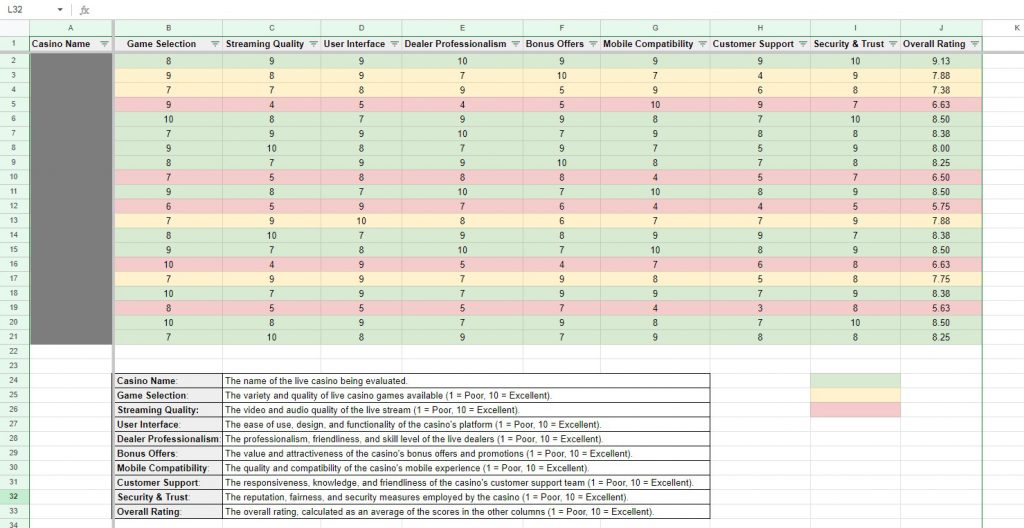 1. License from a Legitimate Body
We verify that the live casino holds a valid license from a reputable licensing authority, which is essential for legal operation. Some of the trusted authorities we look for include the UK Gambling Commission, Malta Gaming Authority, Kahnawake Gaming Commission, and others.
2. Independently Regulated
We also check if the live casino is regulated for security and fairness by a reliable independent authority, such as eCOGRA. If we can't find this information, we take it upon ourselves to test the live casino's games to ensure their fairness. This involves running the games thousands of times to confirm that the results are genuinely random and that an RNG (Random Number Generator) is being used.
3. Valid SSL Encryption
A crucial aspect of security is checking for a valid SSL encryption certificate on the live casino sites we review. SSL encryption guarantees that any data exchanged between the player and the live casino is not at risk of being intercepted. This ensures that the site is secure and safe to use.
4. Live Casino Dealer Oversight
For live casinos specifically, we assess the level of oversight and regulation of live dealers. This includes evaluating the training, professionalism, and integrity of the live casino dealers to ensure a fair and secure gaming experience.
5. Secure and Trusted Payment Methods
We examine the available payment methods at each live casino, ensuring they provide secure, well-known, and trusted options for deposits and withdrawals. This protects your financial transactions and guarantees a reliable experience.
---
1. A Wide Variety of Live Casino Games
A diverse selection of live games is crucial. We look for an excellent mix of live table games, such as blackjack, roulette, baccarat, and poker, as well as other live dealer experiences. We also consider the range of game variants offered. Our team tries out several titles with real money to ensure quality and variety.
2. Live Casino Game Shows
Game shows have become a popular aspect of live casinos. We evaluate the availability and variety of live game shows, such as Dream Catcher, Crazy Time, and Monopoly Live, ensuring that players have access to a unique and entertaining gaming experience.
3. Professional and Engaging Live Dealers
The quality of live dealers can significantly impact a player's experience. We assess the professionalism, expertise, and charisma of the live dealers to ensure a memorable and enjoyable gaming session.
4. Game Software from Top Developers
The software used by live casinos plays a significant role in distinguishing their offerings. We look for live casinos that source their games from leading software providers such as Evolution Gaming, Playtech, and Pragmatic Play. The best software providers deliver seamless video streaming, high-quality sound, and engaging animations, among other impressive features.
5. The Option to Play with Different Betting Limits
Catering to players with varying budgets is important. We check the availability of tables with different betting limits, ensuring that both casual players and high rollers can find suitable options at our recommended live casinos.
6. Stable and High-Quality Streaming
Streaming quality is a critical aspect of the live casino experience. We assess the stability, video quality, and audio quality of the live streams to ensure an immersive and enjoyable gaming session.
---
1. Welcome Bonuses
The best live casinos should offer a generous welcome bonus specifically tailored for live casino players. We love to see a deposit match that exceeds $750 and offers more than a 100% match. Additional tiers in the bonus structure, such as a no-deposit bonus or free bets for live casino games, make the deal even more attractive.
2. No-Deposit Bonuses
These bonuses are particularly appealing since they allow players to enjoy live casino games without risking their own funds. We consider a no-deposit bonus of $20 to be decent, $30 to be good, and $50 to be exceptional.
3. Cashback Offers
Cashback offers are popular in live casinos as they provide players with a percentage of their losses returned to them over a specific period. We assess the value and frequency of cashback promotions, favoring casinos that offer higher percentages and more frequent cashback opportunities.
4. Exclusive Live Casino Promotions
Live casinos should have unique promotions and offers for their live dealer games, such as leaderboards, tournaments, and prize draws. We evaluate the variety and frequency of these promotions to ensure that players have access to exciting and rewarding opportunities.
5. Wagering Requirements
Reasonable wagering requirements are essential for players to enjoy their bonuses. We prefer live casino bonuses with wagering requirements of less than 15x the bonus amount or 10x the deposit+bonus amount. For no-deposit bonuses, we appreciate even lower wagering requirements.
6. Cashout Limits
We look for live casinos with no or minimal cashout limits on their bonuses. Players should be able to enjoy their winnings without being restricted by arbitrary limits.
7. Bonus Expiration
We consider the duration for which a bonus is valid. A 30-day expiration period is generally acceptable, while seven days may be considered short. Ideally, bonuses should not have an expiration period.
8. Game Contribution to Wagering Requirements
We expect all live casino games to contribute significantly to the wagering requirements. A good live casino should ensure that all game types, including table games and live dealer games, contribute at least 10% towards meeting the wagering requirements.
---
1. Easy Deposit Process
We evaluate the ease of signing up and depositing funds at live casinos. Key aspects we consider include the number of payment methods available, the accepted currencies, and any minimum or maximum deposit limits.
2. Security of Your Funds
We ensure that all payments are made through trusted and secure methods. This includes the encryption of personal data and the non-disclosure of unnecessary details to the live casino. Additionally, we verify that casinos segregate player funds from those used for general operations, guaranteeing that payouts are always available when requested.
3. Fast Withdrawals
We examine the withdrawal process and look for a wide range of banking options and currencies. We're particularly interested in the speed at which funds reach players' accounts after initiating a withdrawal request.
4. Speedy Processing
Apart from efficient banking processes, we want to ensure that live casinos don't take too long to process players' winnings for release. We assess their processing times and verify that they stay true to their promises.
5. A Fair RTP
To confirm that a live casino is offering its customers a reasonable payout rate, we check the average RTP (Return to Player) and the RTPs of individual games. All reputable live casinos should readily display this information on their website.
---
1. Availability of Support Options
A top-rated live casino should provide all main support/contact options, including email, phone, live chat, and a help/FAQ section. Ideally, live casinos should offer 24/7 support, preferably through live chat. If not, they should have dedicated hours of operation, seven days a week.
2. Response Time
Quick and accurate responses are crucial for a positive customer support experience. We consider live chat services that provide detailed responses within 1-3 minutes as efficient. Similarly, we assess other support methods based on their average response times.
3. Quality of Responses
The best live casinos offer accurate and comprehensive responses that address players' concerns without needing further clarification. We rate the quality of the responses provided by the casino's customer support team.
4. Accessibility
Easy access to support is essential. Top-rated live casinos should have one-click live chat access on their homepage, and contact details should be readily available without requiring players to navigate through multiple pages.
Here's a summary of the support methods and their average response times:
| Method | Availability | Avg. Response Time |
| --- | --- | --- |
| Phone | Common | 1-3 minutes |
| Email/Web Form | Common | 24 hours |
| Live Chat | Common | 1-3 minutes |
| Text | Rare | 5 minutes |
| Social Media | Rare | 48 hours |
---
1. Optimization for the Smaller Screen
We assess the quality of live casinos' instant-play websites on various smartphones and tablets using different browsers. Top-rated live casinos should offer a seamless experience on mobile devices, with a similar number of games available as on desktop. We also consider any additional bonuses and promotions exclusive to mobile players.
2. Game Availability
A crucial criterion for a top mobile live casino is the percentage of games available on mobile devices. Live casinos with only 20% – 40% of their games on mobile aren't considered high-quality. Those offering 60-80% are average, while the best live casinos provide at least 95% or even all their games on mobile.
3. Native Apps for Android and iOS
High-quality live casinos should offer native apps for both Android and iOS devices, ensuring a seamless gaming experience for players using these platforms.
4. Solid App Experience
We thoroughly test downloadable apps for mobile devices, evaluating their speed, layout, game selection, and overall performance. The app should be glitch-free, easy to navigate, and provide a comparable experience to the live casino's main website.
5. Mobile-exclusive Features
To stand out among top live casinos, some may offer mobile-exclusive payments and bonuses, which can enhance the mobile gaming experience for players.
What happens when a live casino doesn't meet our standards at LiveCasinoMate?
At LiveCasinoMate, we strive to recommend only the best live casinos to our readers. However, if a live casino fails to meet our stringent criteria and poses a potential risk to players, we add it to our list of sites to avoid.
Currently, our list consists of over 90 casinos, which we continually update with any additional sites that should be steered clear of.
We understand the importance of providing our readers with a safe and enjoyable live casino experience. As such, every casino on our list of sites to avoid has been thoroughly investigated by our team of experts, who caution against sites where players may experience:
These problematic sites may be identified during our comprehensive review process or brought to our attention by valuable feedback from our readers. We thoroughly investigate any complaints we receive to ensure that our recommendations remain up-to-date and trustworthy.
At LiveCasinoMate, your live casino experience is our top priority, and we're committed to guiding you toward the best live casinos while steering you away from any potential pitfalls.