Evolution Gaming's Dream Catcher is a progressive live money-wheel game show that revolves around chance, meaning you, as a gambler, have no chance to influence the outcome of the round. However, this doesn't imply that you should thoughtlessly squander your money every time you play. By incorporating a winning Dream Catcher casino strategy, you may find yourself maximizing your bets while minimizing losses.
Excited to learn more? Below, we introduce several casino strategies and tips for Live Online Dream Catcher that will help you become a master of the game.
About The Dream Catcher Live Casino Game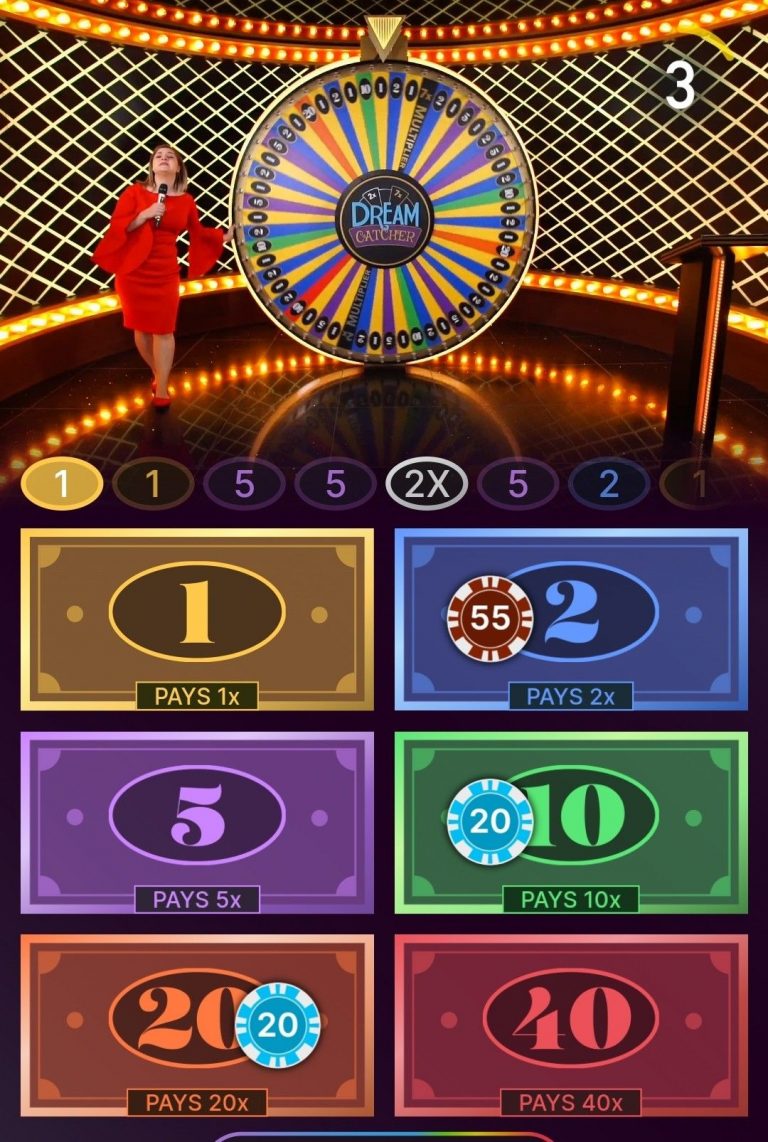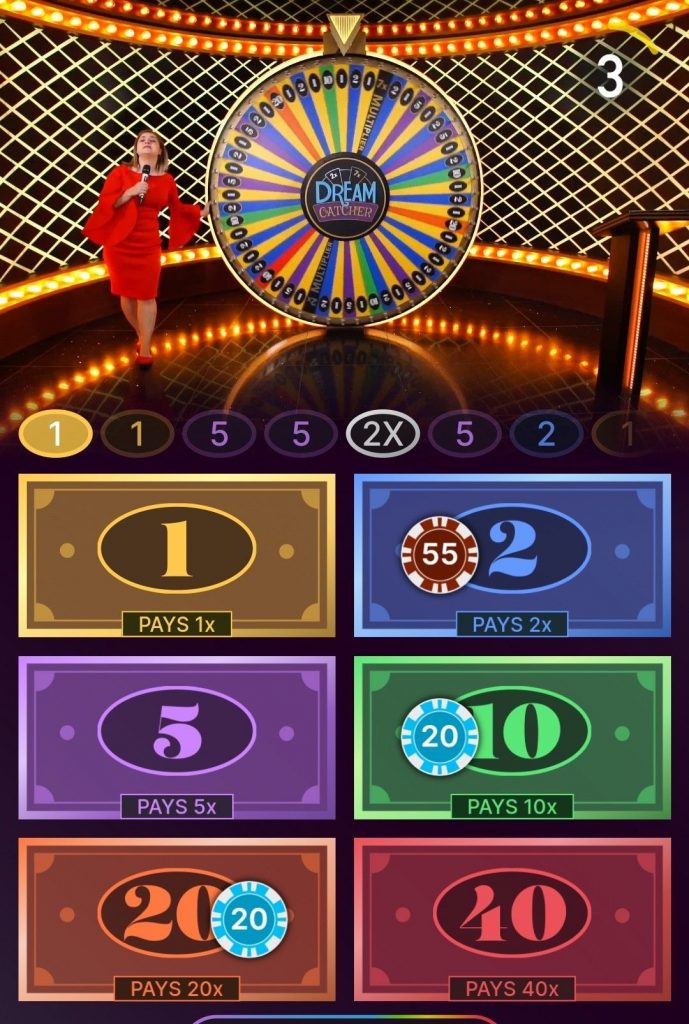 In 2017, during the ICE industry gaming event, Evolution Gaming introduced the live online version of the Dream Catcher game. It showcases a large, vertically mounted wheel with 54 coloured segments. Among these segments, 52 feature distinct numbers, including 1, 2, 5, 10, 20, and 40. Additionally, the wheel includes two multiplier segments, namely x2 and x7.
The game is streamed in high-definition quality from a specialized studio located in Riga. Multiple camera angles and close-up shots create an immersive playing environment, along with enthusiastic and energetic dealers who are hosting the game.
Now, before you get to choose the best Dream Catcher game strategy, let's briefly review the main rules of the game.
Basic Rules
If we had to recommend a live casino game that is one of the easiest to play, it would be the Live Dream Catcher. Why? The rules are beyond easy to understand, so instead of spending hours practicing, you have a chance to focus on finding and using the proper Dream Catcher strategy. See for yourself:
Odds
The payouts for Dream Catcher are uncomplicated and easy to remember, even if you are making your bet for the first time. The odds correspond to the number on the winning segment, and bets are paid out based on a one-to-one ratio. Each number on the wheel is associated with a distinct number of segments.
For you to be able to apply any Dream Catcher wheel strategy, we recommend reviewing the odds payouts table we present below:
| Wheel Number | Odds Of Hitting | Payout | Segments | House Edge | Colour |
| --- | --- | --- | --- | --- | --- |
| 1 | 42.59% | 1:1 | 23 | 4.66% | Yellow |
| 2 | 27.77% | 2:1 | 15 | 4.49% | Blue |
| 5 | 12.96% | 5:1 | 7 | 8.76% | Purple |
| 10 | 7.41% | 10:1 | 4 | 3.42% | Green |
| 20 | 3.70% | 20:1 | 2 | 7.26% | Orange |
| 40 | 1.85% | 40:1 | 1 | 9.19% | Red |
| x2 | 1.85% | payout of the next winning number is multiplied by 2 | 1 | n/a | Black/Silver |
| x7 | 1.85% | payout of the next winning number is multiplied by 7 | 1 | n/a | Black/Gold |
Dream Catcher Casino Strategy Variant To Choose From
After a thorough examination and testing of more than a dozen of various betting strategies, we have managed to select the three top Dream Catcher casino game strategies, each catering to different types of players. The following section outlines popular playing methods.
| Strategy | Winning Odds | Wheel Coverage |
| --- | --- | --- |
| Safe Spread | 38.88% | 21 segments out of 54 |
| Slow And Steady | 25.92% | 14 segments out of 54 |
| All Or Nothing | 5.55% | 3 segments out of 54 |
The Safe Spread (low-risk)
The
Dream Catcher
betting strategy utilizes the 2x and 7x multiplier segments to its advantage. During each betting round, wagers are exclusively placed on the 5, 10, 20, and 40 segments. By adopting this strategy, you are encompassing the highest-paying spaces. Additionally, if a multiplier happens to land, you will have substantial wheel coverage.
Considering the potential rewards, this Dream Catcher strategy holds considerable value. A $1 bet on the number 40, on its own, yields $40. However, if the 7x multiplier is landed, that initial 40x reward escalates to an impressive 280x.
---
The Slow And Steady (medium-risk)
In this Dream Catcher casino strategy, you emphasize placing wagers on segments 1 and 2. By betting on these numbers, you cover 38 out of 54 segments, which accounts for over half of the wheel.

Additionally, this strategy increases your chances of benefiting from a multiplier spin. This approach can be compared to focusing on Even Money bets in Evolution Live Roulette. Although the payouts are relatively low, you can expect a more consistent stream of wins.
---
The All Or Nothing (high-risk)
We refer to the high-risk strategy as "go big, or go home", as you focus on placing bets on the segments with the numbers 20 and 40 for maximum potential returns.

Since you will only be covering a mere 3 out of the total 54 segments, the probability of winning stands at a mere 5.55%. However, if your chosen numbers emerge as winners, the substantial payouts will justify your decision, particularly if you happen to hit one of the multiplier segments as well.
---
How To Choose The Best Dream Catcher Game Strategy
It is irrelevant which of our Dream Catcher betting tricks you choose to follow, as every gambler has their own preferences and ways of wagering their money. This individuality is completely acceptable and, in fact, encouraged in the context of Dream Catcher.
Our analysis of various Dream Catcher casino game strategies led us to the conclusion that avoiding the most extreme high-risk and low-risk approaches is preferable. The middle-risk approach proved to be the most effective in terms of both returns and enjoyment. Nevertheless, each player should make their own decision based on what suits them best.
Feel at liberty to experiment with our Dream Catcher tricks or develop your own methodology. This game allows you to adjust the probability of winning, so it's important to engage in strategies that make you feel comfortable.
Dream Catcher Tricks And Tips For Playing The Wheel Game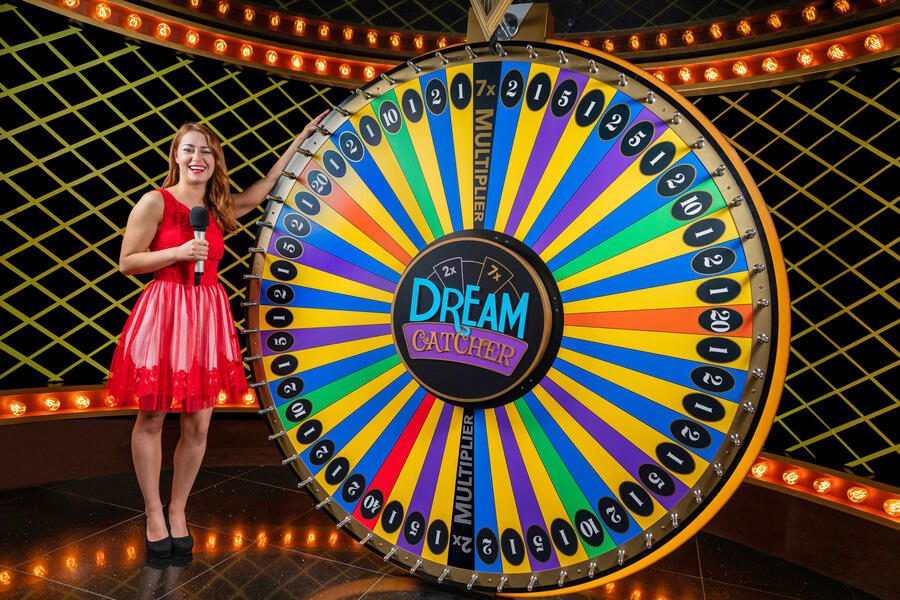 As a team of experienced live casino gamblers, we have successfully devised three top strategies for placing bets in Dream Catcher Live. However, our expertise extends beyond just these strategies. To help you win more frequently and effectively manage your bankroll, we have compiled a list of additional Dream Catcher tricks and tips below.
Study The Odds
Thoroughly learn the odds of the game so that you are capable of assessing the risk-reward ratio associated with each bet. You will be able to identify which bets have higher probabilities of success and which ones have lower chances. By focusing on bets that offer better odds, you can optimize your gameplay and, overall, place more of the winning bets.
Set A Budget
We advise avoiding wagering half of your balance in a single round, particularly when employing high-risk strategies. Establish a maximum budget you may spend and stick to it at all costs. It's crucial to keep your cool and not pursue your losses while gambling. Evaluate your bets in relation to the level of risk involved and refrain from using funds that you are unwilling to part with.
Start With Small Bets
Bets that offer improved odds present a greater potential for both reward and loss. So the useful Dream Catcher tip here is to consider placing your money on numbers that yield lower payouts but have higher probabilities of being selected. This approach to the Dream Catcher game can help you preserve your funds and participate in more rounds.
Consider The Multiplier Segments
By carefully assessing and wagering on the segments with multipliers, you can obviously maximize your profits and improve your overall success rate in the game. Although their hit frequency is more unpredictable, even occasional winning bets on such segments have the potential to yield substantial returns.
Choose Only Trusted Casinos
Trust your time and money only with a reputable and licensed casino. No need to review dozens of live online casinos by yourself – use the list of the best gambling websites that we provide on our website. Each listed casino offers a wide range of games, including popular live slots and game shows like Monopoly and Dream Catcher, holds licenses from reputable regulatory bodies such as the MGA or UKGC, and ensures fast and efficient withdrawals of funds.
Practice Responsible Gambling
Always adhere to your betting limits and engage in responsible gambling. Whenever necessary, take breaks and avoid pursuing losses. Remember, the purpose of gambling is to have fun rather than solely aiming to accumulate profit. Establishing time and monetary boundaries is a significant aspect of cultivating a healthy betting strategy for Dream Catcher. If you feel overwhelmed, seek assistance instead of persistently attempting to recover your losses.
Final Thoughts
By creating this article on the Dream Catcher game strategy, we wanted to share some expert insights into various approaches to selecting betting segments. Based on years of expertise in live casino gambling, we can assure you that there are no foolproof methods to ensure victory in this game. Regardless of the strategy you adopt, the live online casino will maintain its RTP rate and house edge.
Opting for the Spread strategy is likely the most effective way to strike a balance and make the most of the game's offerings. It is advisable to conduct thorough testing of all the betting strategies. Once you have analyzed the performance of each strategy, you can then proceed to make your decision.
Frequently Asked Questions