Crazy Time, developed by Evolution Gaming, is certainly among innovative and the most popular live casino game shows that come with relatively simple but engaging gameplay. However, the simple course of the game and the fact that it is based on pure chance do not automatically mean that it is impossible to use any tips or betting tactics and get your bets multiplied.
As a professional casino player and game analyst, I cannot emphasize enough how important it is for you to choose the proper Crazy Time strategy and use it while playing the game. So in this article, I will explain the basics of the game, as well as provide you with the list of the best strategies and tips for playing the game show, which I personally tested in multiple live dealer casinos. So let's get right to the point.
About Crazy Time Game By Evolution
Crazy Time is a live online casino game that is inspired by the TV show format. The game features a professional host/hostess and a wheel comprising 54 segments and encompassing 8 different bets. Within the game, there are four distinct numbered bets, each offering a specific number of available spaces and corresponding bet payouts. Additionally, there are four exclusive bonus games that allow for the use of multiple Crazy Time tricks and strategies and provide a chance to multiply your wins.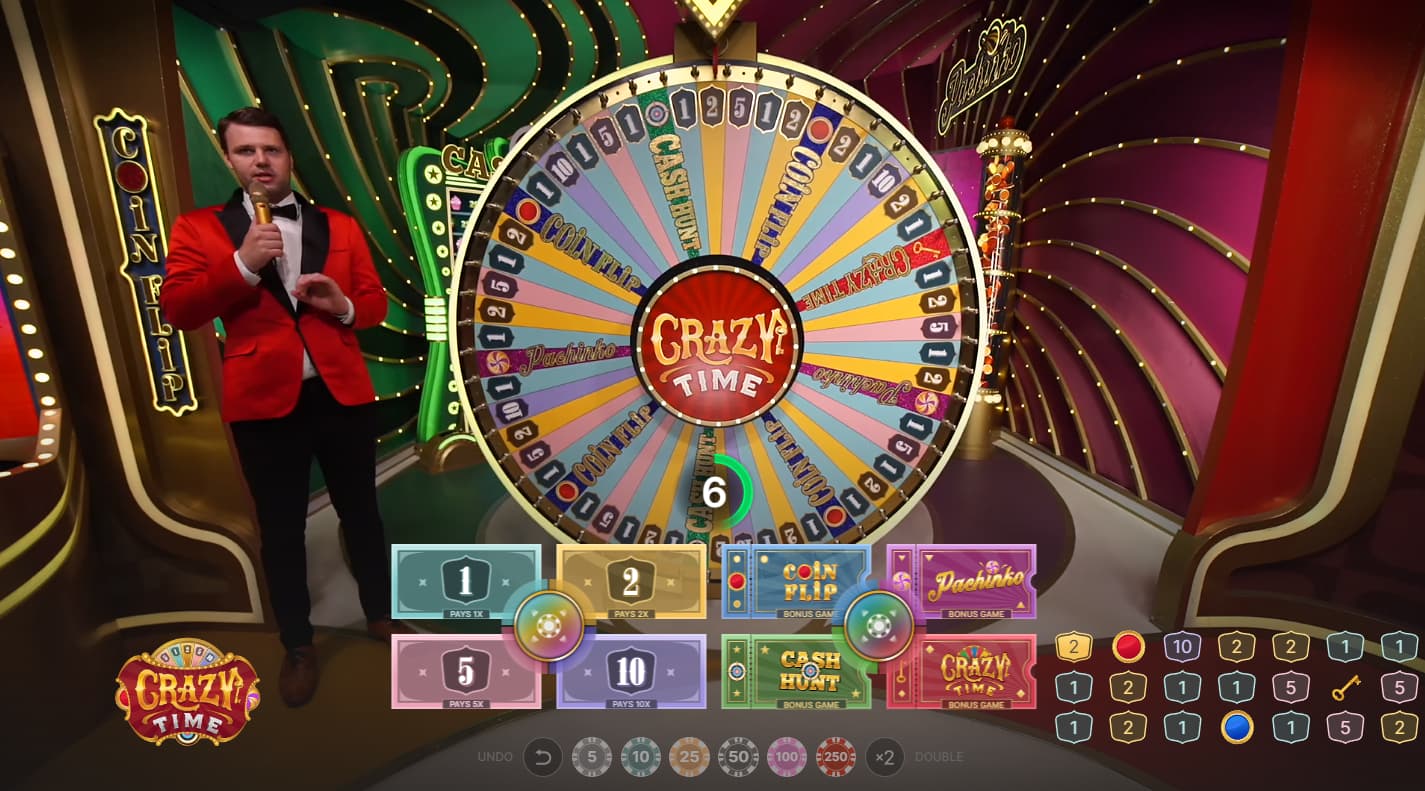 To diversify the players' gambling experience, the Top Slot feature is introduced, which involves the rotation of a pair of reels and serves to introduce special win multipliers to the numbered bets.
How To Play Crazy Time Casino Game
Having played all the possible live casino game shows, I can say that Crazy Time is one of the easiest games to play and win real money in sufficient amounts, especially when you incorporate some effective Crazy Time tips and tricks. Before you even sign up at a live dealer casino and place your first wager, I recommend you first learn about the basic game mechanics and available bets. Only by fully understanding the game's essence you will be able to opt for the best Crazy Time strategy.
Basic Rules And Bets
As I mentioned before, it is quite easy to learn how to play Crazy Time, as the game goes as follows:
Bonus Games
Crazy Time offers not only regular real-money bets but also includes four distinctive bonus games. These bonus games are triggered when they are landed on once the wheel spin is over. To be eligible for any bonus game, it is necessary to place a bet on the corresponding bonus game space during the betting phase. Now, let's have a closer look at each of the bonus rounds so that you have a better understanding of how to win in Crazy Time.
Pachinko
This online bonus game features a Pachinko wall with multiple pegs. There are 16 drop zones at the top and 16 multiplier zones at the button. The game starts once the puck is dropped from the top and then lands at the bottom, multiplying the wager made in Crazy Time up to 10 000x.
Cash Hunt
The Cash Hunt bonus stage in Crazy Time is designed as a shooting gallery featuring 108 randomly assigned multipliers. The Crazy Time trick here is to locate the highest-value multiplier possible, utilizing your mouse to aim and activate a cannon to shoot the symbol of your preference. Subsequently, all symbols vanish, uncovering the multiplier prize you have won.
Coin Flip
Before the start, the system will generate a random multiplier for the Red and Blue sides of the coin. Ideally, both multipliers would be favourable, but in my experience, one tends to be high while the other is low. Next, the croupier tosses the coin into the Flip-o-Matic machine. The side of the coin declares the winner, and gamblers receive a multiplier of up to 5000x associated with that colour. If the assigned multiplier is low, a Rescue Flip occurs.
Crazy Time
The main wheel features only a single Crazy Time segment which offers a high roller bonus, allowing for a maximum multiplier of 20 000x. With a total of 64 segments, the virtual Crazy Time Wheel encompasses various multipliers, as well as Double and Triple symbols. In this round, the only possible Crazy Time casino strategy here is to select Blue, Green, or Yellow coloured flappers. The prize corresponds to the segment where the chosen flapper stops. Should the flapper come to a halt on a Double or Triple, the multipliers will be doubled/tripled.
Payouts & Odds
The average RTP for all bets in Crazy Time ranges from 94.41% to 96.08%. The live casino game demonstrates a high level of volatility, resulting in both small and large wins. When it comes to playing, remember that there's no one-size-fits-all trick Crazy Time strategy, but understanding the game's dynamics and adjusting your bets accordingly can help you navigate its unpredictability. Placing bets on bonus rounds is one of the main methods on how to win Crazy Time casino game, as such bonus rounds offer the most significant winnings. Below, I have prepared the table which displays the probability of landing on each segment of the Crazy Time wheel, indicating the hit frequency.
| Bet On | Number Of Segments | Odds / % | Payouts |
| --- | --- | --- | --- |
| 1 | 21 | 38.88 | 1:1 |
| 2 | 13 | 24.07 | 2:1 |
| 5 | 7 | 12.96 | 5:1 |
| 10 | 4 | 7.41 | 10:1 |
| Coin Flip | 4 | 7.41 | up to $500 000 |
| Cash Hunt | 2 | 3.70 | up to $500 000 |
| Pachinko | 2 | 3.70 | up to $500 000 |
| Crazy Time | 1 | 1.85 | up to $500 000 |
Crazy Time Strategy: Top Systems And Tactics To Try
As a professional live casino game analyst, I have dedicated extensive time to test and experiment with more than 30 diverse betting strategies. Through a thorough evaluation, I have identified the top 6 Crazy Time betting strategies and described them in more detail below.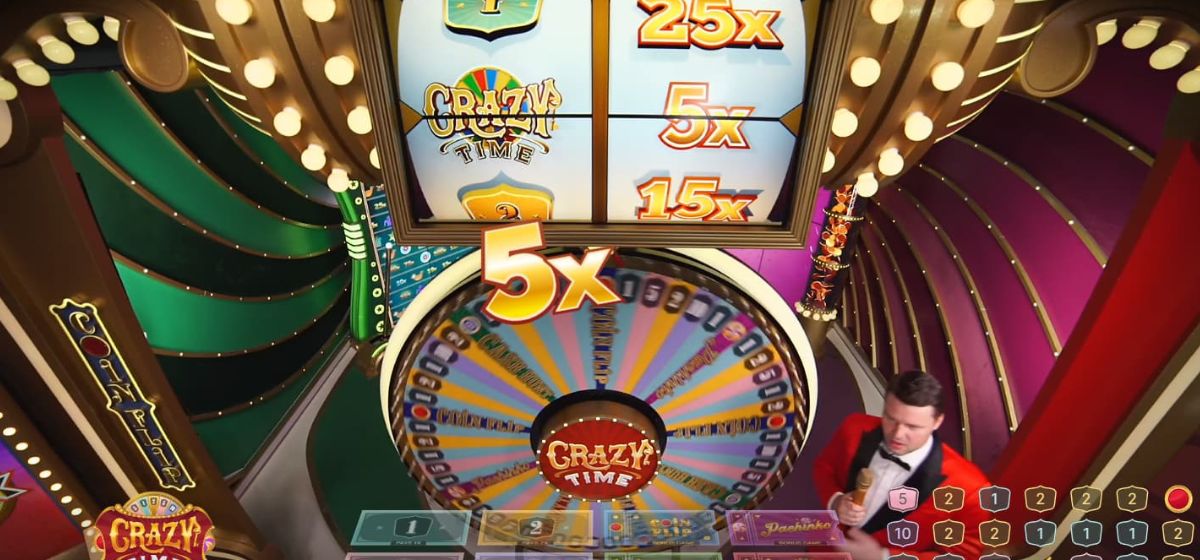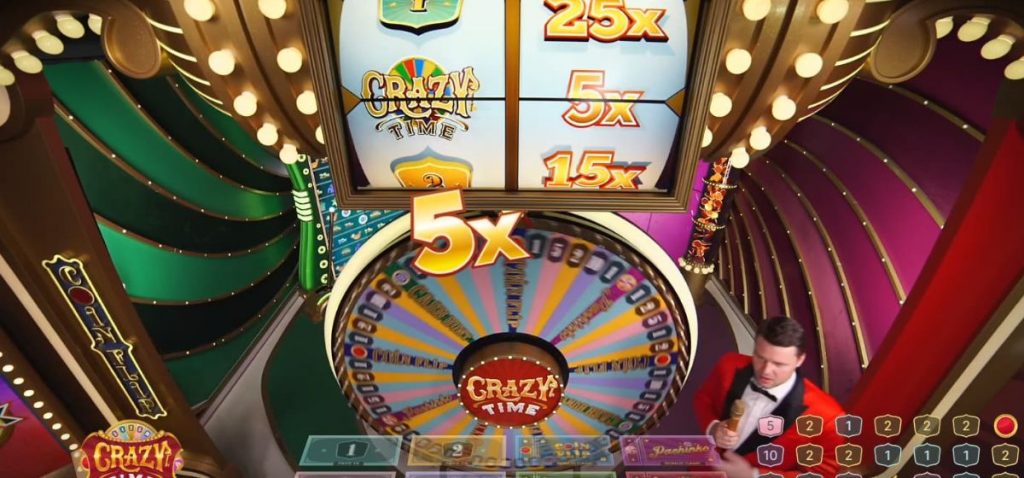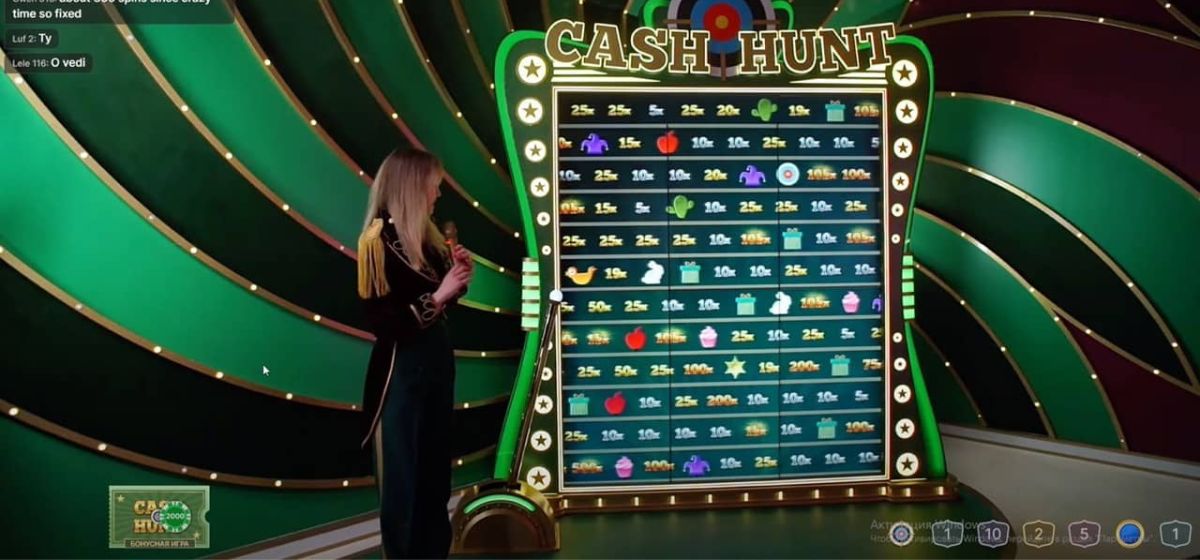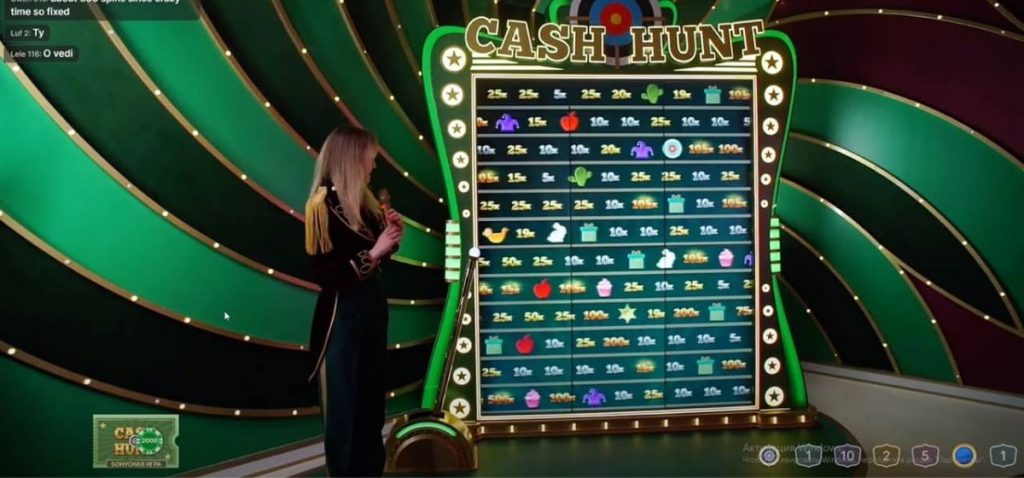 Martingale
The logic behind
this strategy
is betting only on bonus games and doubling the amount of waged cash after every loss. For example, if you bet $1 for each 4 bonus games and lose, you should bet $2 in the next round, and so on. In case you win – return to $1. Having put this Crazy Time betting strategy to the test, I discovered that a bonus field appears approximately every 6 rounds.
---
All In
I recommend the All-In tactic for all the new players joining the game, as it involves placing wagers on every betting option available on the wheel. By using this Crazy Time casino strategy, you guarantee a partial return on your bet each time since your bets cover the entire wheel. Based on my extensive gaming experience, I advise you to divide your budget for your bets evenly and also check the outcome history from previous rounds.
---
Matching The Bet To The Odds Of Each Number Available
This Crazy Time game strategy also implies that you place a wager on each betting option offered in the game while adjusting the wager amount based on reduced odds. For example, you would bet $1 on the segment with number 1, which carries the highest likelihood of occurring but offers the lowest payout of 1:1. Subsequently, you would bet $2 on the segment with the number 2, where the payout ratio is 2:1, etc.
---
Betting Exclusively On The Numbered Spaces Available
When it comes to devising a Crazy Time Evolution Gaming strategy, it may seem logical to opt for betting only on the numbered spaces that appear most frequently. For the primary wheel, I recommend placing bets on one or two "value" numbers, such as "1" and "10", in order to maximize your winnings from the bonus rounds. In terms of betting amounts, I suggest starting with smaller wagers until you become familiar with the game. Otherwise, there is a risk of losing your bankroll quickly by placing excessive bets on the bonus round betting spots.
---
Bonus Game Bonanza
For this Crazy Time strategy, I would suggest you prioritize placing your real-money wagers exclusively on the 4 bonus games, regardless of their value, if you want to never miss out on the bonus games. Remember that each bonus game has a distinct number of segments on the board, allowing you to adjust your bet amounts. Having played this game dozens of times, I can attest that the Coin Flip bonus feature has more chances to be the final result of the wheel spin as it has 4 segments on the wheel, while the Crazy Time bonus has only one.
---
The 10-5-2-1 Strategy
I consider this tactic as a low-risk Crazy Time game strategy, as it is focusing on numbered sections only. You need to put low equal wagers for each numbered segment and double the amount for the segment with number 1. For example, you can bet $5 on the segments with the numbers 2, 5 and 10, while the $10 should be placed on the segment with the number 1.
How To Choose The Best Crazy Time Strategy?
Still wondering how to win in Crazy Time? But you already know the answer – you need to employ the best betting strategy. As a game analyst and a professional live casino gambler, I understand that it may be more than challenging to pick the right strategy. For that reason, I prepared a short list of recommendations:
Before you actually choose the crazy time best strategy or any other wagering approach I need to warn you that there is no single betting tactic that has been proven to be 100% effective for each gambling round. Therefore, I recommend you gamble responsibly and not get carried away while you are on a winning streak.
Crazy Time Tricks And Advice
If you are a new casino player seeking Crazy Time tips and strategies, I recommend reading this guide and implementing one of the tactics I suggest above, as gambling with no tactic in mind is the easiest way to lose your gambling bankroll.
Here are the additional Crazy Time tricks and tips that you can use:
Final Thoughts
Based on my personal experience, I can confirm that the feeling of hitting a substantial win for the first time, even when employing a crazy time winning strategy, is truly exhilarating. However, you must gamble responsibly and refrain from expecting big wins every time you play.
Unless you possess the time and financial resources, I strongly advise you to balance your wagers and try to minimize your losses. This is also the exact moment to select a Crazy Time strategy from those I mentioned above and place your bets correspondingly. So why not do it right now and get a chance to win way more with your favourite game?
Frequently Asked Questions