Sweet Bonanza Candyland is an innovative casino entertainment game developed by Pragmatic Play, which marked the entrance of the casino software developer into the industry of live casino game shows, right after the launch of Evolution's Crazy Time and Playtech's Adventures Beyond Wonderland.
As a dedicated fan of game shows, I spend hours playing the Sweet Bonanza Candyland game and testing diverse strategies, so you will not have to. So in this guide, I will provide you with the basic information about the game you need to know for profitable gambling, share the list of the best wagering systems so that you have an opportunity to pick the finest Sweet Bonanza Candyland strategy and explain how you can do it.
So, let's get right to the subject!
Introduction To Live Sweet Bonanza Candyland
Sweet Bonanza CandyLand Live was launched in 2021 by Pragmatic Play. The captivating theme of this game draws inspiration from Pragmatic's highly acclaimed slot game, Sweet Bonanza.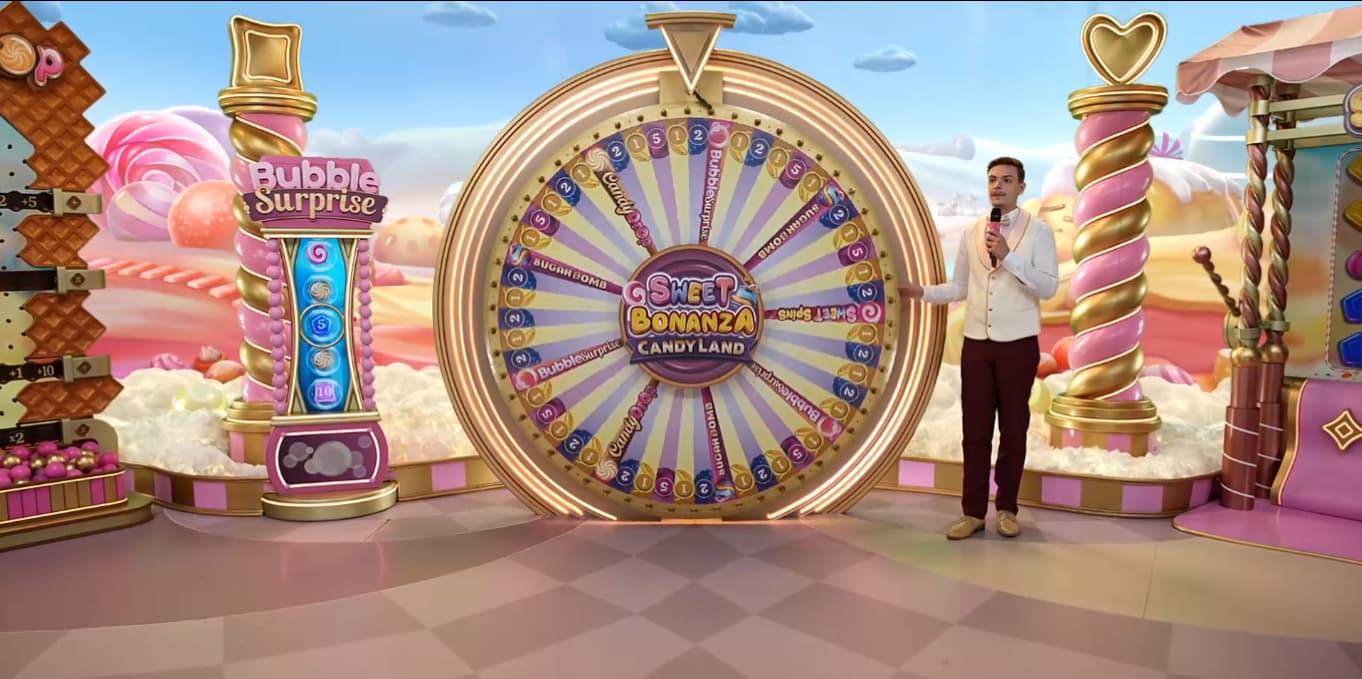 At the heart of the game lies a colossal Wheel of Fortune featuring 54 segments:
Additionally, 2 segments exhibit Candy Drop symbols, 3 segments feature the Sugar Bomb symbol, 3 segments contain the Bubble Surprise symbol, and only 1 segment showcases the Sweet Spins symbol. The live online game delivers exceptional entertainment value with its vibrant theme, friendly and always-smiling host/hostess and 24/7 gameplay availability.
Now, before we get into the Sweet Bonanza Candyland tricks and strategies, let's make a quick stop to talk about the basic rules of the game.
Rules Breakdown
If you have previously participated in a similar mega-wheel online game show, you will find it easy to dive right into the action. The general rules of the game follow a familiar pattern, offering multiple options for betting, multipliers, and bonus rounds and go as follows:
The bonus rounds are where the real excitement lies. So before you test out any Sweet Bonanza Candyland strategy, check out the basic information about each round:
Candy Drop
It is an RNG game where you are asked to pick one of three colored candies to follow. One by one, each candy drops into a 4-row maze collecting multiplier symbols.
Sweet Spins
The bonus round plays on a 6×5 slot screen that uses a tumbling action rather than spins on the reels. The game starts with 10 spins, which can be boosted with extra spins and allows you to win prizes and multipliers.
Sugar Bomb
It will randomly select a multiplier between 2x to 10x to apply to all betting positions on the wheel, and the wheel is spun again. If the wheel lands on a bonus segment, its result gets multiplied by the Sugar Bomb multiplier.
Bubble Surprise
This round will redirect you to the slot with one reel that contains 5 symbols. The wheel spins, and whatever symbol the wheel stops on is your prize (multiplier, Sweet Spins or Candy Drop bonus rounds).
Odds And Paytable
According to official data provided by Pragmatic Play, the highest RTP for Sweet Bonanza CandyLand is recorded at 96.95%. However, it is important to note that this value does not encompass all bets within the game. In reality, it represents the maximum potential value, while the lowest recorded RTP is 91.59%.
For you to be able to strategically place your wagers and use one of the popular Sweet Bonanza Candyland strategies, first, check out the odds&payout table I prepared below:
| Wheel Section | How Many On The Wheel | Odds | Payout Rate |
| --- | --- | --- | --- |
| 1 | 23 | 42,59% | 1:1 |
| 2 | 15 | 27,77% | 2:1 |
| 5 | 7 | 12,96% | 5:1 |
| Bubble Surprise | 3 | 5,55% | 5x, 10x, 25x |
| Sugar Bomb | 3 | 5,55% | 2x-10x |
| Candy Drop | 2 | 3,7% | up to 1000x |
| Sweet Spins | 1 | 1,85% | – |
Sweet Bonanza Candyland Strategy Options
As a professional live casino gambler and game analyst, I feel obligated to warn you that there is no assured Sweet Bonanza Candyland trick or a betting strategy that guarantees a win in every round. Still, you can test your chances by adopting one of the approaches I describe below. Note that each of the mentioned strategies was tested at the top live online casinos and is not a scam.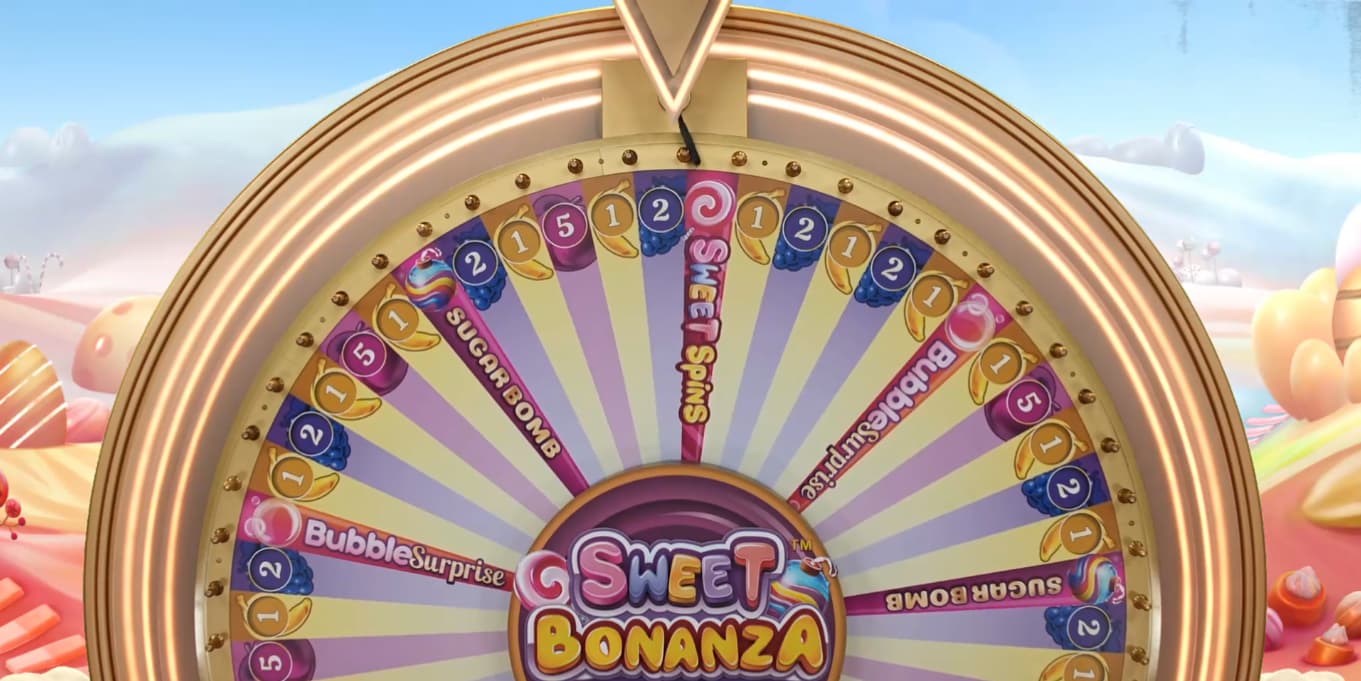 Bet All Strategy (Multiplier)
This strategy is very simple: you are to place bets on all possible outcomes. The efficiency of the method is obvious because it guarantees that at least one of the bets will play. I heard a widespread rumor among players that employing this Sweet Bonanza Candyland trick will yield profits during extended gaming sessions. However, in my opinion, this claim is unfounded.
Yes, it is possible for you to experience some success in short periods of time, however, by placing all bets all at once, you may lose more money than you actually win.
Watch And Wait Strategy
As you may have already guessed, the essence of this Sweet Bonanza Candyland strategy lies in regularly checking the statistics tab of the game. As an experienced gambler, I am aware that the game goes through both hot and cold phases. By regularly checking the history tab, you can gain real-time insights into the average payouts.
If the bonus games occur frequently, let's say more often than every 5-6 spins, I would suggest placing bets on the bonus sectors for the next 3-4 spins. Conversely, if the average is below 6 spins, I recommend exercising patience and waiting.
Martingale System
I recommend using the Martingale Sweet Bonanza Candyland strategy only for those gamblers who can afford to spend large amounts of money. In the context of this live casino game, the betting strategy can be employed in the following manner:
Choosing The Best Sweet Bonanza Candyland Strategy
As a professional live casino gambler, I meticulously consider multiple factors when selecting my preferred gambling strategy for Sweet Bonanza Candyland, and now I have created a mini-guide to assist you in doing the same:
Sweet Bonanza Candyland Tricks And Best Practices To Ensure Smooth Gameplay
In addition to the strategies I mentioned above, there are also some Sweet Bonanza Candyland tricks that I find quite useful. Obviously, you cannot use them all at once, but your gambling goals and previous experience will help you determine which tips will be actually useful for your gambling sessions.
Understand The Game Mechanics
Scroll up and read about the game rules and mechanics. Pay extra attention to the description of the bonus games, as each round comes with a unique set of multipliers and prizes. It will help you to decide better which rounds you need and want to bet on and what payouts you may actually count on. Since you have only 13 seconds to place your bets, you need to come prepared.
Set A Budget
Every experienced live casino gambler, me included, will recommend that you set a budget for betting on Sweet Bonanza Candyland or any other live casino game. It will provide you with a more clear understanding that gambling is not a means to make money. Besides, you will be able to play and have fun rather than always worrying that you may overspend.
Pay Attention To The Paytable
One of the main Sweet Bonanza Candyland tricks for winning is to pay close attention to the paytable. Understanding the payout values for different bonus rounds will help you better strategize your bets and focus on the bonus games that offer higher rewards. Having a broader paytable most definitely increases the chances of you winning big.
Take Advantage Of Special Features
After I spent dozens of hours playing the game, I can confidently say that no betting strategy will bring you profit if you are not using any of the game's bonus features. Sweet Bonanza Candyland provides 4 bonus games that grant high multipliers and, therefore, may significantly enlarge your profit. Moreover, such special features contribute to profitable gambling sessions as well as a seamless gambling experience.
Set Win And Loss Limits
In my personal experience, live online casino games are extremely engaging, and it is easy to lose your head in the process, especially when you are on a winning streak. That is why I suggest setting limits for your losses and wins. You can set these limits yourself, or you may use the responsible gambling tools offered by reputable, licensed online casinos.
Choose The Live Casino To Play At Wisely
My last advice is not to gamble at the first live online casino you see, but take time to review multiple options and pick one of the top casinos presented by livecasinomate website. Our team of professional casino reviews uses various online gambling criteria to assess online casinos before featuring them on our platform. By doing so, they ensure that the selected online casinos genuinely deliver exceptional services rather than merely presenting a superficial front.
Final Thoughts
You may have been asking yourself: Is having a Sweet Bonanza Candyland strategy even necessary? Can't I just play for fun and rely on luck? This is where I disagree.
Winning in a game can take countless hours, days, and even weeks, so familiarizing yourself with the fundamental game rules and payouts is not enough. Occasionally, you may be required to use and switch between betting strategies to make sure you do not lose all your money and leave the live online casino with nothing.
So use my guide on the most effective tactics and decide on the approach that seems the most effective to you. Do not forget to use some of the Sweet Bonanza Candyland tricks I mentioned above to ensure you maintain your balance or, at the very least, prevent substantial losses.
Frequently Asked Questions